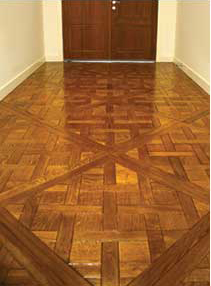 Oakleaf French Panels are manufactured from premium European Natural Oak, precision milled and individually assembled to create a long-lasting, visually stunning floor.
Panels are produced in 19mm thickness and are offered in standard 590 x 590mm, 726 x 726mm and 866 x 866mm patterned panels.
Oakleaf French Panel designs include:
• Marie Antoinette
• Versailles
• Florentine
In brief:
• pre-assembled patterned panels, ready to lay
• supplied unsanded and unfinished surface
• square edged
The Oakleaf brand of flooring was born out of the beautiful European Oak range of flooring that Hazelwood & Hill Timber imports directly from Europe.
Full details and specifications > www.oakleaf.com.au